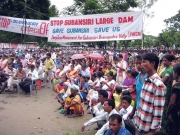 This report by Kalpavriksh, Aaranyak and ActionAid India deals with the large dams' juggernaut, which happens to be the biggest 'development' intervention in this ecologically and geologically fragile, seismically active and culturally sensitive region in the coming days. With the Northeast identified as India's 'future powerhouse' and at least 168 large hydroelectric projects set to majorly alter the riverscape, large dams are emerging as a major issue of conflict in the region.
Although the current scale of dam-related developments far outstrips anything which took place in the past, the region has been no stranger to dam-related conflicts. For example, the Kaptai dam, built in the Chittagong Hill Tracts of East Pakistan (now Bangladesh) in the 1960s, submerged the traditional homelands of the Hajong and Chakma indigenous communities, and forced them to migrate into parts of Northeast India.
Over the years, this has led to serious conflicts between the refugees and local communities in Arunachal Pradesh. In the 1970s, the Gumti dam in Tripura submerged large tracts of arable land in the Raima Valley and displaced the local tribal population, leading to unrest. Projects such as the Loktak hydroelectric project commissioned in the 1980s have impacted the wetland ecology of the Loktak lake in Manipur, seriously affecting the habitat of the endangered Sangai (the brow-antlered deer) and the livelihoods of local people.
The impending loss of home, land and livelihood has led to many years of opposition to the Pagladiya project in Assam and the Tipaimukh project in Manipur on the Barak river. More recent times have seen major conflicts emerge in Assam and Arunachal Pradesh over the individual and cumulative impacts of over hundred dams planned in upstream Arunachal.
Dam-induced floods from projects such as the 405 MW Ranganadi hydroelectric project in Arunachal and the intense people's opposition to the under-construction 2,000 MW Lower Subansiri hydroelectric project on the Assam – Arunachal Pradesh border have been major triggers for what has now emerged as a major political debate on the downstream impacts of dams in the region. Meanwhile, in the uplands of Sikkim and Arunachal, minority indigenous communities such as the Lepchas and Idu Mishmis have expressed concern about the impacts of multiple mega projects in their homelands.
Download the report here:
Posted by
Attachment

Damming_Northeast_India__Kalpavriksh__Aaranyak_ActionAid_India_2010.pdf