As the Covid-19 pandemic reaches new corners of the country, the NGO community in India has been preparing itself to respond to the unexpected needs that the crisis is producing. DHAN Foundation, a professional development organisation working in several states of India with the communities has begun to develop a strategy. The organisation, which works especially among the poor and disadvantaged households, is already scaling up its response to Covid-19.
DHAN's project in Beed region of Maharashtra covers nine locations in three districts - Beed, Parbhani and Osmanabad. DHAN has been working with 1028 self-help groups with a total of 14266 members. There is a spike in cases of Covid-19 in Maharashtra. 
Most of the self-help group members negotiate their daily needs through uncertain livelihood opportunities – either through farming, agricultural labour particularly as sugarcane cutters, construction labour or are engaged in small businesses. The livelihoods of approximately 10000 households got affected due to Covid-19, with the lockdown suspending all forms of work for twenty one days. While, there could be good reasons for this nationwide lockdown, the poor people got badly hit.
Daily wage earners like the sugarcane cutters with marginal savings were unable to get on farm employment and have returned back to their respective villages. The construction workers have temporarily lost their work and are unable to access food and essential items to sustain themselves. Those running petty business are not grossing any income due to lockdown, and their working capital needs are not being met. Those who sold milk, vegetables, eggs, chickens etc., are unable to earn anything or are compelled to sell these products at throwaway prices. The livestock owners are faced with a shortage of cattle feed during the lockdown. Perishable products like vegetables can no longer be transported to the markets and are rotting.
Scores of poor, especially the migrant workers, street vendors, physically challenged lost their livelihood and have been pushed into economic uncertainty. They are finding it hard to tide over the adverse impacts of the lockdown.
The financial impact, especially on these households that survive on daily income is huge. They are unable to meet their basic needs or do loan repayment during the crisis.
DHAN's response
DHAN's self-help group federation was providing updates to its members over phone especially by sending WhatsApp messages about how Covid-19 is impacting people in vulnerable communities. The leaders of the village committees are being provided updates on Covid-19 spread, as well as instructions from the state government and district collector. Masks and sanitizers have been provided to the field associates, but the villagers are in dire need of village level sanitisation drive. DHAN Foundation trained Kalanjiam (savings group) members to stitch masks using locally available materials in Beed. Over 1000 masks have been developed and distributed among the villagers.
In Koraput district of Odisha, Covid-19 has affected life and livelihoods of the Kalanjiam members in the interior areas. There has been an influx of migrants back into these tribal villages. There is high chance of spread of the disease as isolation norms are not being followed because of space constraints at home. It was found that over 70 percent tribal people did not know about the causes, symptoms, consequences and precautions related to Covid-19. They believe that Covid-19 is spreading abroad and is unlikely to reach tribal areas. Some even consider that alcohol consumption can prevent Covid infection.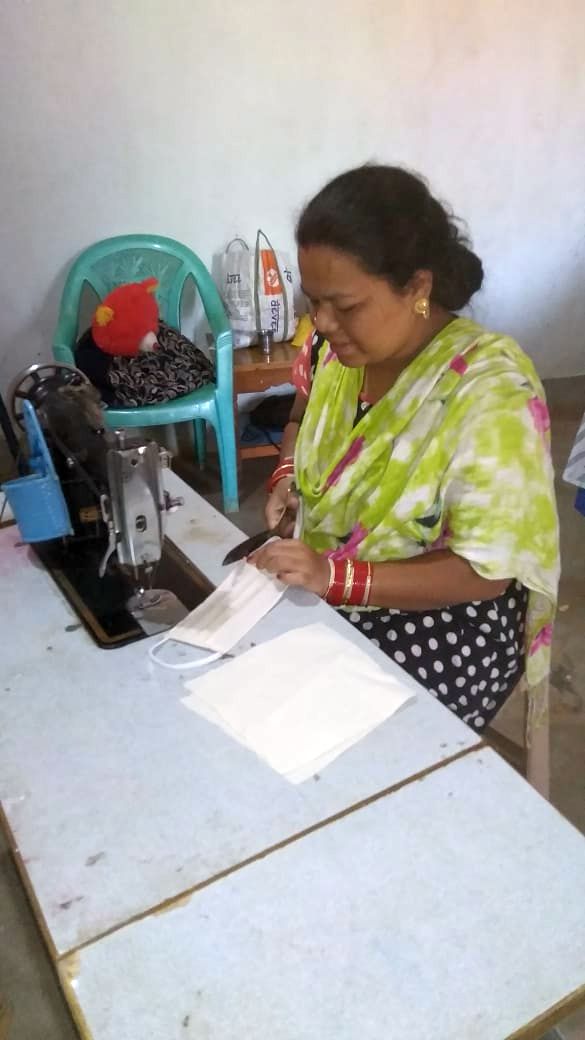 More than 3500 Kalanjiam families are unable to sell their agriculture produce in the weekly market or to the village middleman. Hence, it is very difficult for them to recover their investment in vegetable or cash crop cultivation. Due to lockdown, tribal people are afraid of police attack in the market even when they come out for essential needs. Women needing ante-natal care are unable to go for regular check-ups. People are finding it difficult to access primary health care facilities now.
As soon as the first case of Covid-19 was identified in Odisha, DHAN started providing amenities to those who faced acute challenges in the absence of adequate support systems. Awareness was created among interior tribal Kalanjiam members. Trainings were conducted for the health associates to understand the causes, symptoms, consequences and precautions related to Covid-19, so they could in turn raise the awareness of Kalanjiam members. But, unfortunately it was not possible to reach all members due to the sudden lockdown.
DHAN is trying to reach out to the vulnerable people in partnership with the Government of India and state governments. It arranged for Corona awareness Ratha (Chariot), which went through more than 40 villages in Koraput distributing leaflets to raise awareness among over 30000 tribals. The involvement of the Chief Medical Officer, Chairman-Zilla Parishad, Head-Krishi Vigyan Kendra, District Coordinator-Odisha Millet Mission and Assistant Agriculture Officer was drawn in this initiative.
Village level demonstration is being conducted on wearing mask, proper handwashing, social distancing etc. A documentary film was prepared with the involvement of local community in local language to create awareness among the tribal people.
The Government of Odisha is actively controlling the situation with the involvement of staffs of Integrated Child Development Scheme, Health Departments, Education Department and Gram Panchayats to monitor the situation regularly. All gram panchayats have been provided an amount of Rs. 5 lakh to take care of isolation centres in the district. DHAN Foundation promoted Aradhana Kalanjiam at Deoghati has taken charge of cooking and distribution of food at isolation centre of the gram panchayat.
Suggestions from the community
More awareness programme through behaviour change communication on causes, symptoms, consequences and its precaution is required in the interior tribal areas.
Strong action needs to be taken to develop facilities to quarantine the migrant labourers who returned from other states.
Door to step delivery of essential items can reduce the possibility of more infection.
Support for food and basic amenities is required for the daily wage labourers. Considering the strong link between work and poverty, the working poor are expecting adequate measures in order to mitigate the adverse impact of the unprecedented inability to get wage work as well as sell their produce at the market.
Better hygiene and sanitation conditions as well as enough mask supply are required; local Kalanjiam members need to be trained to make masks and use it.
Some people have received their MGNREGA dues or amounts in their Jan Dhan accounts. But they are unable to access banks; there is a need to provide mobile ATMs in their villages.
A rapid action team needs to be trained followed by mock drills to control the situation should the disease spread to interior villages. They can identify the symptoms at the early stage and quarantine the suspected cases of Covid-19. The staffs of the NGOs need to be trained to double up as para-health workers.
The article has been abstracted from the DHAN RADAR newsletter on Combating Covid-19.
Posted by
Attachment