Even as I sat down to write this the Jeevan Raths have rolled out and are serving migrants essentials - food, water and sanitary napkins  in two hotspots for migrant movement in Mumbai Metropolitan region - the Dahisar check naka , and Andheri to Borivali. Six more such are expected to roll out over the next few days. The idea for providing support to migrants who are walking back took 48 hours to convert from thought to action- based on a question asked on a whatsapp group - What can we do to help the migrants who are making the long, hard walk back home? Multiple organisations quickly rallied around - and everything from the truck, supplies and volunteers were organised almost immediately. 
Track the Jeevan Rath's progress here.
The "Mumbai" Spirit - the Maharashtra spirit!
While putting together a relief mechanism in 48 h is truly extraordinary, it is merely one of the things that this whatsapp group focussed on Covid-19 relief in Maharashtra has achieved over the last 2 months. Over 55 organisations - representing government, technical and regulatory bodies, civil society, foundations, CSRs and private companies are collaborating to remind us that Mumbai's spirit is well and truly alive and shining in these most difficult times. 
These are the organisations collaborating for this wonderful work:
321 education foundation, AIILSG, Alert Citizens Foundation, CASA Mumbai, CEPT University, Citizens Association for Child Rights, CORO, CYDA, Doctors without Borders, Ecosan Services Foundation, Essar Foundation, Family Welfare Training & Research Centre, FICCI Ladies Association of Mumbai, Geo Roti Ghar, Glenmark Foundation, Habitat For Humanity India, Hope For Children Society, Hungry wheels, Hyundai Foundation, Idobro, India Water Portal - Arghyam, Maharashtra State Innovation Society, Maharashtra State Pollution Control Board, Makaam Maharashtra, Maharashtra State Rural Livelihood Mission, National Stock Exchange Foundation, NEERI, PriMove India, Project Mumbai, Red is the New Green, Red R, RISE Infinity Foundation, Rotary Club of Bombay, Samagra, Sato, Lixil, Save the Children, SBM URBAN-Maharashtra, SOS Children's Villages, SwaCh, Swayam Shikshan Prayog, Tech Mahindra Foundation, The LIFE Foundation, The Resilient Foundation, Triratna Prerana Mandal, UNICEF, WaterAid India, Water Supply and Sanitation Department, World Vision India, YMCA Mumbai, Youth for Unity and Voluntary Action (YUVA), Youth4work
See some pictures of their work here.
"I modified an internal whatsapp group with our WASH partners to colocate and press all of us into concrete action to ensure swift and in some ways, non linear outcomes" says Yusuf Kabir, WASH Specialist and DRR Focal Point, UNICEF-Mumbai who created the group. And over the last 2 months it has grown into an informal, unstructured but very focused collaboration where more than 100 members  respect each other's views and bring together different skills to rapidly respond to the pandemic.
Designing WASH Solutions 
Mumbai has about 30,000 people per square kilometer, in its slums, the number is 5,00,000 people per square kilometer,  so the lockdown has assumed great significance and also presented its own challenges, especially around Water, Sanitation and Hygiene (WASH). Some of these include: How do you ensure availability of water especially in the densely populated slums? How do you control COVID-19 spread in places where public toilets that have 8 seats that cater to more than 300 people every day? How do you ensure availability of personal protective equipment and cleaning supplies when use of these toilets has been made free? How do you create better designs of handwashing stations for use?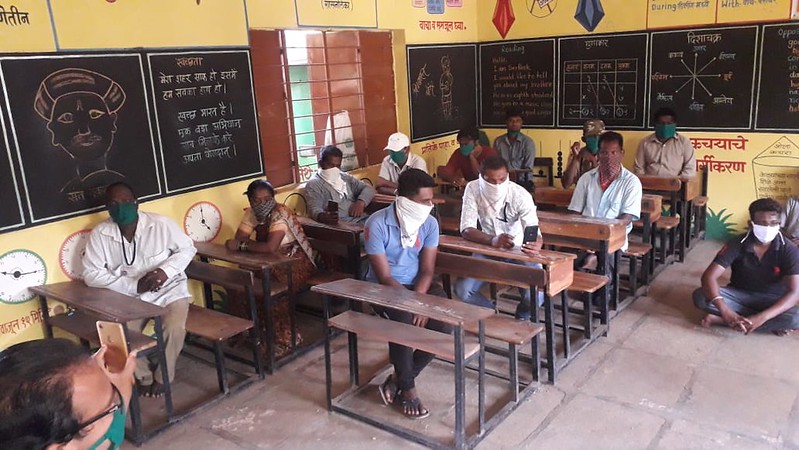 This collaborative has been instrumental in answering and implementing solutions for several of these questions. Designs for zero-touch, foot operated handwashing stations and sanitiser dispensers, standardised operating procedures for operating community toilets, protocols for sanitising community toilets, reopening of schools and distributing food and dry ration to families living in slums around these CBO run community toilets are all seamlessly coordinated and implemented through the various organisations who are part of the group. All of this is also structured around rapid surveys and assessments e.g - understanding handwashing practices during the lockdown, that help assess the ground situation and respond effectively. 
Technical and regulatory bodies in the group (e.g. the Maharashtra Pollution Control Board) in partnership with UDD, SBM-U, AIILSG and UNICEF  are also planning on training at least 1000 Sanitary Inspectors and a few Deputy Municipal Commissioners from  27 Municipal Corporation and 131 Urban Local Bodies on topics that will be critical to controlling the pandemic such as  risk communication, infection prevention and control,  environmental sanitation and hygiene and waste management is also in plan with more than 11 - 12 organisations involved.  It is also expected that this will set the tone for a comprehensive training curriculum for risk and infection prevention  in a million plus cities.
Menstrual Hygiene Management 
Another key aspect, safe menstrual hygiene management which is often neglected in disaster situations is also a top priority with multiple organisations not only supplying safe sanitary napkins to women but again rapidly innovating to connect micro-entrepreneurs to markets to ensure livelihoods along with a safe period. 
Focus on Migrants and quarantined people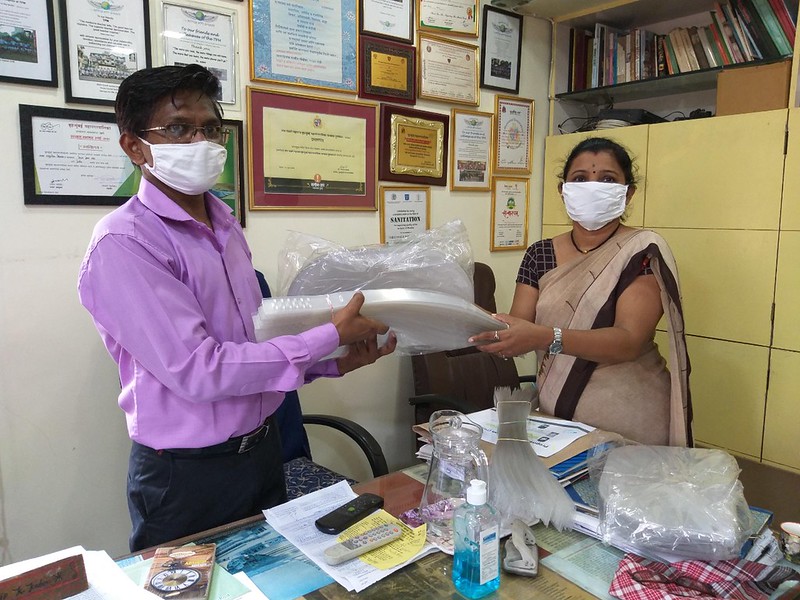 Two other areas of quick field research and problem solving have been in creating better designs of WASH for migrant shelters and quarantine facilities. The collaborative has gone beyond some wonderful support in ensuring that dry rations and food are distributed by people from these organisations who are nicknamed food ninjas to also ensuring that operating procedures to set up WASH facilities are prescribed, staff are protected through the donation of PPEs and ventilators and people in distress are immediately helped.
Return to villages is also thoroughly discussed - with the group drafting protocols for returning migrants in rural areas and distribution of food and dry ration. The Water Supply and Sanitation Department, Government of Maharashtra and UNICEF also run a Swachch Maharashtra whatsapp radio station with audio bytes on safe practices to prevent coronavirus. This station reaches more than a million families in 29000 Gram Panchayats all over rural Maharashtra. Massive online training programmes were also organised with over 31900 swachhagrahis,  and 21000 PRI representatives and 1.5 lakh Multi Purpose Workers, ASHA, ANM and AWW workers trained on awareness on coronavirus  in partnership with Public Health Department and Water Supply and Sanitation Department, GoM.
Focus on oxygen and food essentials for Covid -19 patients and the victims
While India is facing unprecedented challenges due to the second wave of the Covid-19 pandemic, the number of people getting affected is growing in large numbers on a daily basis. The oxygen demand for Covid-19 affected patients is on the rise and while efforts are being made by teams to meet this demand, filling the gaps is important. Maha PECONET- this network of 65+ organisations convened by UNICEF, Maharashtra is working closely with the Public Health Department for District Hospitals to meet these needs in times of crisis.
Click here to know more and donate for the cause
The power of a collective
These are definitely dark times in the history of humankind, but through it all this group of fifty plus organisations show how truly powerful collective action can be.  Much like the city, this collaborative never sleeps - as it finds ways to continue to serve and keep people safe during the pandemic.
You can support the Jeevan Rath's work by contributing here. 
Posted by
Attachment