Bengaluru, once a city of lakes - is in crisis. Newspapers last week were full of news and images of the city being inundated with floods following heavy rains, disrupting lives and causing huge losses to the infrastructure and the economy. Urban floods are becoming a frequent phenomenon in India reminding us that climate change is real and that unplanned development can spell doom for cities and their survival.
Bengaluru has rapidly transformed from being a garden city to an economic hub often referred to as the Silicon Valley of India. Rampant unplanned and uncontrolled development, concretisation and land use changes have increased the incidents of flooding in the city due to an increase in short duration high-intensity precipitation events in recent years.
Indeed, this year has turned out to be the wettest in Bengaluru since 2017. While the city recorded 1615 mm of rainfall in 2017, 2022 witnessed 131.6 mm of rain over twenty four hours!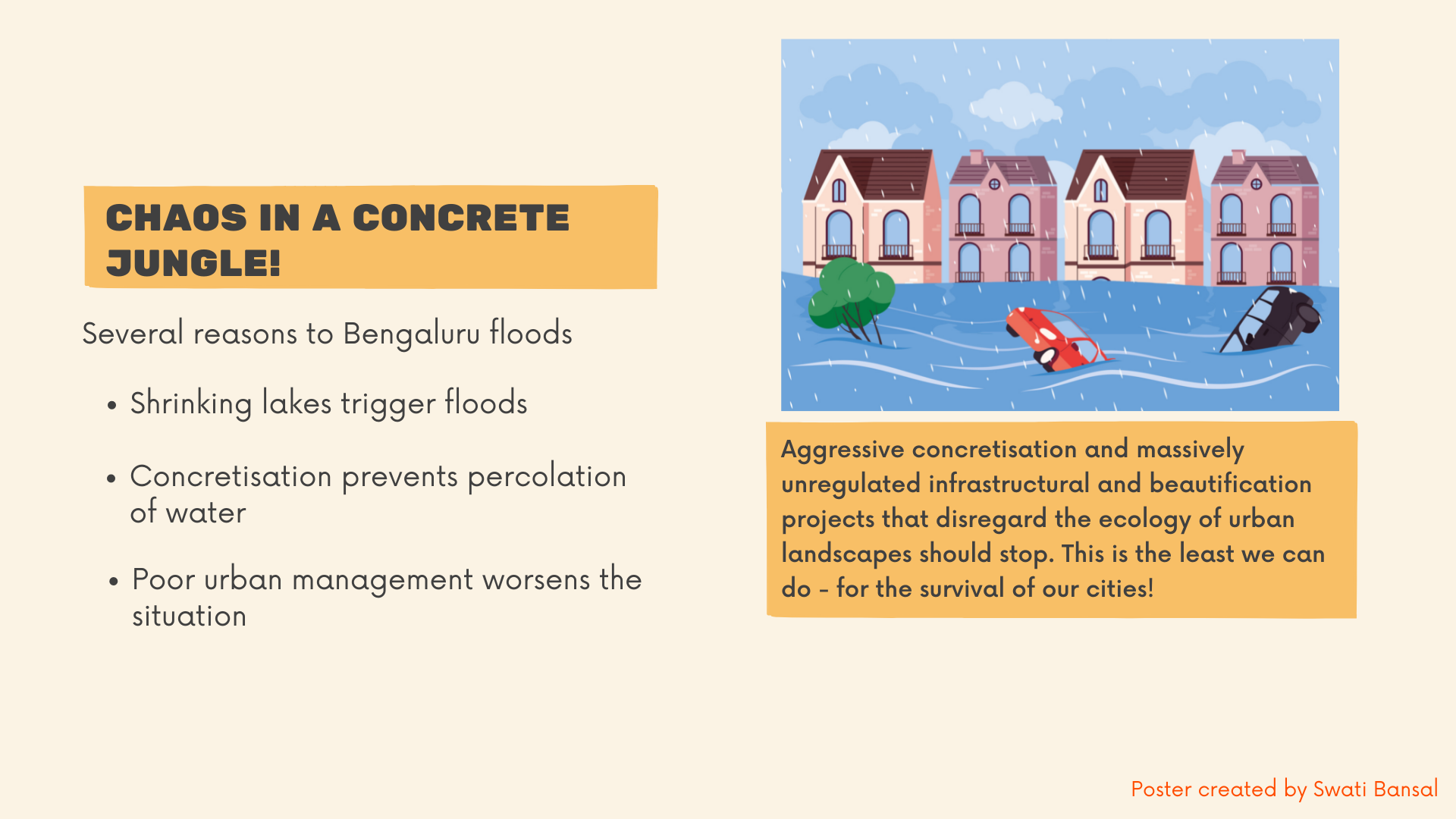 Why is this happening?
While erratic and heavy rainfall patterns triggered due to climate change have a role to play, the main reasons for these flooding events have to do with human related causes. Rampant, uncontrolled infrastructural development in the city in recent years has ignored the ecology and the hydrology of the city.
Urban Bruhat Bengaluru Mahanagara Palike (BBMP) wards that include Koramangala and Challaghatta valley have the largest catchment area of around 255 km2 and a large watershed area with a large number of lakes followed by Hebbal valley with 207 km2, Vrishabhavathi valley 165 km2 , Arkavathi Valley and some of the part of the Suvarnamukh Valley.
Bengaluru was referred to as the city of lakes earlier. In 1800, Bangalore had 1,452 water bodies with the water storage capacity of 35 TMC (thousand million cubic feet), which helped in harvesting rainwater and control flooding. Now only 193 lakes remain and most of them have lost connectivity due to blocking of rajakaluves (storm water drains) with solid waste or because of encroachment.
Shrinking lakes trigger floods
Dr T V Ramachandra, from the Centre for Ecological Sciences at the Indian Institute of Science (IISc), says that loss of interconnectivity among lakes due to extensive encroachment on the lakes and their beds and deposition of silt has led to reduction in the water holding capacity of the lakes.

The construction of roads and storm water drains is not done factoring in the changes in weather patterns and the available storm water drains have also not been maintained by the BBMP. Water bodies and drains are not inter-connected and linkage between different drains is absent. This affects the free flow of storm water leading to frequent flooding in various parts of the city. Regular desilting of the lakes is not done that leads to flooding in case of excessive rainfall.
Concretisation prevents percolation of water
Excessive concretisation can prevent water percolation and lead to flooding. The built-up area in Bengaluru has grown by over 1,000 percent since the 1970s. It was 8 percent in 1973 and has grown by 93. 3 percent.
Poor urban management worsens the situation
Unplanned urbanisation, encroachment and alteration of floodplains, inadequate provision of main drains in the developmental plans, development below the flood levels, lack of capacity of cross drainage works, reduction in stormwater drainage capacity, obstruction and redistribution of stormwater flow, dumping of solid waste and building site waste in the drainage channels, degradation of waterways due to weed infestation, encroachment,  vegetation loss, and eroded and unstable riparian zones are all responsible for flooding in the city.
Fragmented management has led to decline in waterways in the catchment. The current  sewerage system is inadequate to process the large quantities of raw and partially treated sewage flowing in the urban drains and ultimately polluting the lakes. Rapid accumulation of sediments in the drains, dumping of solid wastes, building debris and casual litter also leads to clogging the drains and overflowing and flooding of water.
Poor erosion control practices in construction sites, public parklands, private gardens also leads to deposition of huge quantities of silt into the main drains. These factors, combined with infrequent clearance of drains, have reduced the capacity of the drains to carry away the water.
This inadequate drainage had led to increased instances of flooding and loss to the property and human life and also led to water stagnation that provides a breeding ground for water borne diseases.
What needs to be done
Impacts can be reduced by various measures, such as:
Putting better forecasting mechanisms in place
Identifying vulnerable zones in the cities
Improving disaster management mechanisms
Early warnings and forecasting systems to alert public as well as other stakeholders involved
Improving old drainage systems, including more storm water drains, preventing rainwater from mixing with sewage, ensuring regular cleaning up of storm water drains
Better management of solid and liquid wastes
Re-enforcement of weak, old buildings and infrastructure
Creating public awareness and encouraging community involvement in prevention and control of floods
Conducting regular desilting and improving connectivity of lakes
Floods can be prevented from happening in the future by:
Planning for greener cities
Creation of flood plains and overflow areas for rivers
Planting more vegetation for ground water recharge
Planning more rainwater harvesting structures and water conservation structures in low lying areas
What is being done
A list of 174 Flood Prone Areas (FPA) have been identified by the Karnataka State Natural Disaster Monitoring Centre (KSNDMC) to identify vulnerable and low lying areas that stand the risk of flooding in case of extreme rainfall events.
An integrated urban flood model (UFM) for Bengaluru city is being developed by the Indian Institute of Science (IISc), Bengaluru, in collaboration with the Karnataka State Natural Disaster Monitoring Centre (KSNDMC), Bengaluru to mitigate the impacts of floods in the city.
Water Level Sensors have been developed as a part of this initiative to monitor water levels in stormwater drains and rainfall. Water level and capacity of drain are both calculated. Once the drain reaches 75 percent mark, the civic body is alerted immediately. The rescue team or storm water drain wing of BBMP takes necessary action accordingly.
KSNDMC has real-time data of rain and the device uses this information to calculate if water levels will rise due to continues showers and drain can hold that much quantity of flow. The calculation is made location specific and hence is accurate. The BBMP has finished survey of stormwater drains in Bengaluru and the city now has 132 sensors installed at areas that are highly vulnerable to floods.
While these sensors can boost accuracy upto a great extent, their application has been found to present challenges in instances where rainfall expected to fall over 24 hours falls with enormous force in barely one hour as it happened during the last few days . Experts think that early prediction systems could have limited applications in such scenarios. 
Early warning systems launched by KSNDMC and IISC in the form of mobile apps Bengaluru Megh Sandesha and Varunmitra for real time alerts on urban floods and rains are also facing challenges in the face of such extreme events.
Remodelling of storm water drains is also in the pipeline, but taking a long time and the SWD department has been accused of serious lapses due to lack of clarity and proper planning in managing stormwater. Heavy rains in a  short span of time also present challenges in terms of developing the capacity to store the huge amount of water that flows into the city without percolating due to extensive concretisation.
While efforts to find solutions and adapting to new realities are urgently needed, these instances highlight the dire need to prepare our woefully ill equipped cities to face such events in the future by putting basic regulations and infrastructural and planning mechanisms in place while giving importance to the ecology and hydrology of urban areas.
Aggressive concretisation and massively unregulated infrastructural and beautification projects that disregard the ecology of urban landscapes should stop. This is the least we can do - for the survival of our cities!
Posted by