Linkages between water security and socio-economic growth
The Sustainable Development Goal (SDG) 11 calls for inclusive, safe, resilient, and sustainable cities. This cannot be achieved without innovation in the water sector with in-depth broad thinking, research and analysis on the links between economic growth and the future of our urban spaces.
India has some of the fastest-growing cities in the world, both in terms of population expansion and industrial and economic growth. It is estimated that by 2030 over half the population in the country will live in urban centres.
Rapid growth combined with rising consumption patterns and pollution has increased the water insecurity in urban India. Local sources of water, including groundwater, are fast depleting, adding to the high financial and technological costs of transporting water from sources outside the cities with insufficient means to augment and boost supply within the cities.
No Indian city currently supplies 24/7 clean potable water to all its residents year-round. Added to this, is the climate uncertainties and vagaries of changing weather patterns adversely affecting available sources.
Kubernein Initiative's working paper 'Challenges to Urban Water Security and Growth" highlights these linkages between water and socio-economic growth for six Indian cities. Water security is important as it is connected to the economy, health, energy and food security of a nation. High levels of unavailability and water stress can impact the economic future of cities and the country, which compounded with food, energy or health challenges become a risk multiplier.
The paper aims to incite dialogue around the inclusion of water in emerging urban governance structures and the planning and implementation of any urban policy that could be even remotely impacted by the state of water.
Due to both time and resource constraints this paper currently examines, through secondary research, the varying degrees of water stress in the six selected cities across India that are collectively and individually major contributors to the nation's economic output, either through production, industrial development, the service industry or by human resources. The need, however, is to add both depth to the current study, as well as widen the scope to include more cities in the next phase of the project.
Each of the six cities under study in this paper, Bengaluru, Chennai, Delhi, Kolkata, Mumbai and Surat are on the one hand important pieces of India's aim to become a USD 5 trillion economy by 2024 and on the other hand constantly water-stressed. While the problems faced in each city might be different, from drought, access, poor storage and access, contamination and depletion of groundwater or a combination of issues, the overarching fact is the lack of adequate water.
This fundamental problem increases the strain on human capital and ultimately a citizen's ability to contribute to their own and the nation's growth in a meaningful way. Many challenges to achieving urban water security are common across cities:
Knowledge gaps

Outdated infrastructure

Socio-economic stress

Undervaluing water

Lack of alternative sources of water

Excessive emphasis on the supply side

Ad hoc solutions

Lack of coordination amongst policy intervention
A few city-wise highlights from the paper
Studies indicate that India could face a GDP loss of 6 per cent from lack of better water management by 2050 (World Bank, 2016), which is approximately the entire economic contribution of Mumbai to India's GDP (at 2018-2019 ppp).
Mumbai is the commercial capital of India, yet severely water-stressed with unequal distribution of water, lack of access, outdated infrastructure and minimal enforcement of rainwater harvesting and other means of supply.
Some of the city's growing commercial spaces, such as Bandra-Kurla Complex, Worli and Parel, especially for new media and advertising agencies, banks and pharma companies, and key industrial zones such as SEEPZ and Marol are prone to excessive flooding in the monsoon and water shortages in the summer. This in-turn places a strain on the citizens and the city which makes up close to 87 per cent of Maharashtra's GDP as well as key industries including jewellery and leather goods.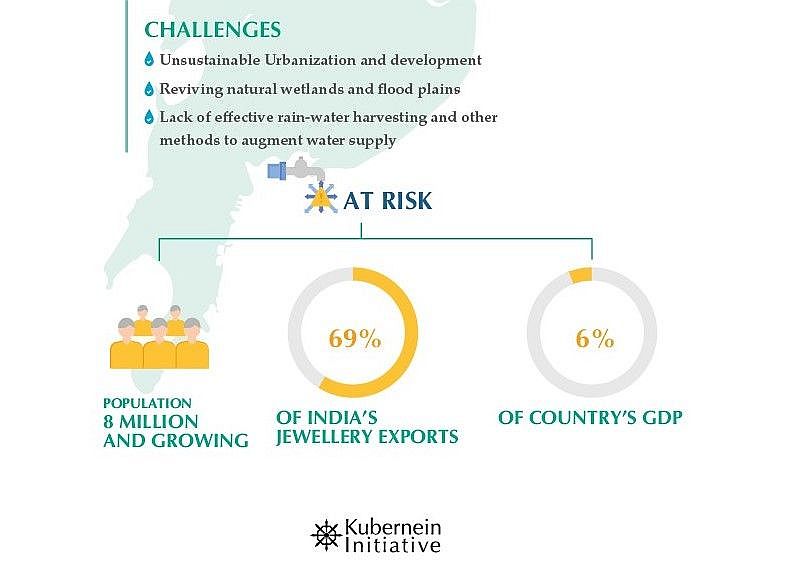 Chennai and Bengaluru, once water abundant cities, have both faced challenges related to water security in the recent past. While Chennai faced one of its worst water crises in 2018-19, Bengaluru delayed impending water day zero in 2019 by further exploiting the Cauvery river with tankers supplying water to over 50 per cent of the city. In both cities, water resources are overworked and overused, and not adequately replenished; instead, many natural spaces that allow for recharge have been built upon and concretised.
It is projected that by 2030 unless Bengaluru implements and enforces drastic measures of water management and consumption patterns, the gap between supply and demand could be as much as 80 per cent. Not only is this an extreme risk to the population but also to the economy of the city that is home to 40 per cent of India's information technology sector and the start-up ecosystem that attracts a USD 3.5 billion in investments annually.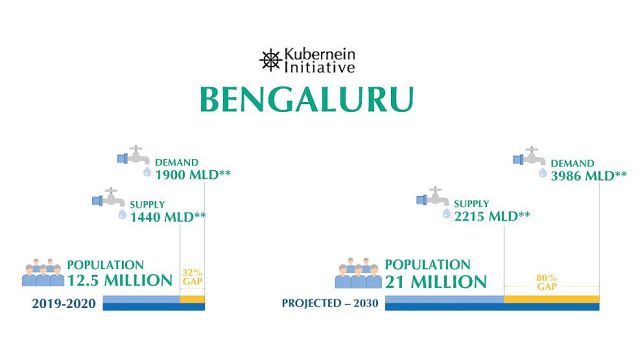 Surat, declared as the fastest growing city in the country and recognised for the productive strides in water management is still grappling with water insecurity, especially in the summer.
Overall in the country, we have poor storage facilities and Surat is no different, where despite alternative sources of water saw cuts in summer of 2019. A few months later the Ukai dam overflowed and water had to be released without being stored to combat future needs for the city that is one of the richest in India with a predicted average annual GDP growth rate of 9.2 per cent from 2019 to 2035. Over 40 per cent of India's art-silk fabric is produced in Surat along with almost 90 per cent of export diamonds in units across the city. Both are water-intensive industries.
To access the full paper please click here
Looking ahead
2020 and the ongoing COVID-19 pandemic has brought to the fore the discussion around urban transformation and how our cities can be more liveable. Research and analysis are centred around reducing pollution, safer, cleaner streets, better transportation options, better healthcare and related facilities and perhaps most importantly the need for more open green spaces.
As we dialogue around creating smarter cities, we must bring water security in the conversation to ensure that long term policy planning and emerging governance structures take into account any direct or indirect effect of water insecurity.
Just as water risks originate from multiple causes, the effects of insecurity are widespread and need to be understood beyond the obvious with greater investment and participation from civil society, academic institutions and the private sector working in tandem with governance structures and institutions.
Cities will ultimately have to decide if they are to be sustainable drivers of growth while providing the best possible environment to both citizens and attract investment, or will the myriad problems arising out of lack of water security leave them dry and barren. Water stress and the inability of governments, both at the local and national level, to effectively tackle the issues of water stress will begin to shape investment decisions in emerging markets.
This article is based on Kubernein Initiative's working paper 'Challenges to Urban Water Security and Growth" that highlights linkages between water and socio-economic growth for six selected cities across India. Recognizing the need to add both depth to the current study, as well as widen the scope to include more cities in the next phase of the project.
Learn more about the Kubernein Initiative through their website, or follow them on LinkedIn or Twitter.
About the Author: Ambika Vishwanath is the Founder Director of Kubernein Initiative, a boutique policy advisory that works on non-traditional security challenges and other areas.
Posted by