The children of Shri Ram Vidya Mandir in Dotiyal in Almora district of Uttarakhand were hushed as they entered the hall. Within 15 minutes, they were all giggling in anticipation of the fun of learning something new. This is one of the schools where students are taught the basics of hydrogeology and water quality.
According to Ganga Joshi of CHIRAG, an NGO working on water in Uttarakhand, it is important to train young people in hydrogeology and springs management. She says, "At present, children don't really know much about water. But they are curious. When I spoke to children at Dhokane, they had many questions about why a spring chooses to emerge where it does."
As part of its work, CHIRAG carries out this training in the villages in Takula and Hawalbagh blocks of Almora district where they are working on rural water supply and spring management. Ashvath Singh Kunadi and Jeetendra Singh Bisht, who coordinate and carry out these training programmes, are convinced of the importance of their task. Ashvath says, "These children will need to be responsible tomorrow for the water supply. Presently, they are not aware of how springs work and how to maintain them. If we introduce them to the basics of hydrogeology, it will not only make them more aware of the springs they encounter but also spark curiosity about their upkeep." Ashvath and Jeetendra carry out two training sessions in each school, one each on hydrogeology and water quality.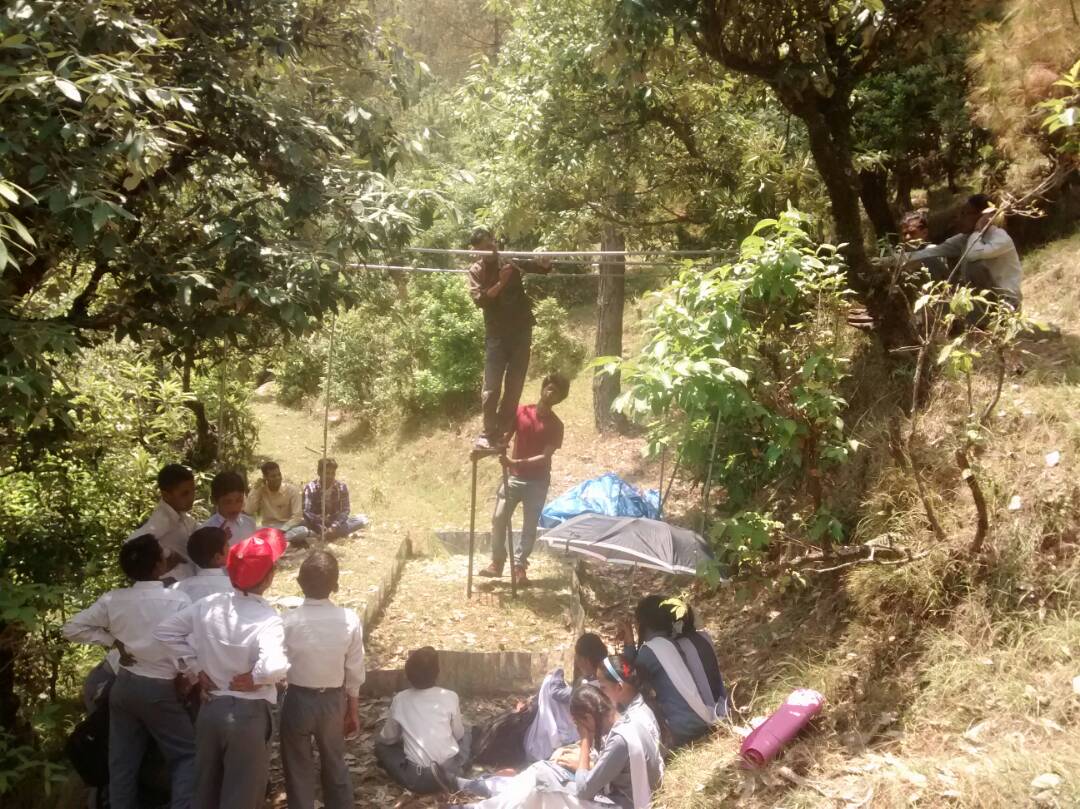 The hydrogeology sessions begin with a few icebreaker questions on water sources and water use. The team ensures that each student gets a chance to speak in public. The students are then introduced to hydrogeology using a model that Ashvath and Jeetendra have created. This is a simple rectangular plywood case with two glass sides. The students replicate the geology in their neighbourhood by positioning soil and rocks in appropriate configuration. By pouring water onto the recharge slope, the students see for themselves how the land behaves with different intensities of rainfall and different rock configurations. Students are also taken to a nearby rock exposure to understand the local hydrogeology.
During the water quality sessions, students are introduced to the idea that water need not look or smell "unclean" to be dangerous. The students help build and operate water quality models. This is accompanied by a discussion on the transport of pollutants through the soil. Seeing how popular the models were with the students and their teachers, Jeetendra came up with the idea of creating a low-cost model inside a plastic jar and leaving it with the school for their use.
Naval Pant, principal of Shri Ram Mandir says that the sessions teach children much more than just hydrogeology and water quality. "They get to learn by doing something and taking an interest in it. CHIRAG's idea of training interested children who will then teach younger children also teaches leadership. It helps them to reach their potential."


Posted by
Attachment