In support of the Digital India Initiative, the National Hydrology Project (NHP) is translating the Ministry of Jal Shakti (MoJS), Government of India's (GoI) vision to create a "one water, one data platform" for the country. The project has supported the creation of a robust web-based database - IndiaWRIS – that hosts uniform, transparent and scientific data on the country's surface and groundwater resources, as well as on water quality.
The platform makes it easy for states and central agencies to share and disseminate important hydro-meteorological data on a real-time basis. With the data being freely available, states will no longer need to seek information on rising water levels from upper riparian states. They will be able to predict/forecast flood levels using the data available on the platform.
The platform also hosts a variety of tools to analyse the data, enabling various stakeholders to improve decision-making on water resources management. The data and tools will enable all stakeholders to pursue more effective river basin planning, derive peak flood flows for designing new bridges, river-front developments and protection works, or for devising dam safety plans. Since all departments, not just the water resources departments, will have access to such information, the platform will also aid disaster preparedness greatly.
Only a few countries in the world have successfully developed a single nationwide platform for water data. This is also possibly one of the largest projects of its kind where the focus goes beyond hardware and construction to include enhancing the technical capacities of irrigation engineers to make them world-class experts in water resources management.
The MoJS's four pillars for "one water, one data platform"
The MoJS has set up the National Water Informatics Center (NWIC) to collate, update, manage and maintain the integrated water information provided through the IndiaWRIS portal. NWIC is also mandated to develop applications which agencies can use for facilitating evidence-based planning and management of the country's water resources. Also, NWIC is coordinating with the states and has started to streamline mechanisms for sharing data amongst central and state government organisations.  
In line with MoJS's data dissemination policy, all agencies will be able to access the platform's online data on non-classified basins. For classified basins, however, only eligible agencies and staff will be allowed to access the data.
The central government is giving states and some river basin organisations a 100 percent grant to collect and disseminate water data in a standardised format.  It is also giving them the infrastructure and extensive technical guidance to facilitate the commissioning of automated monitoring systems.  
Figure 1: Four pillars support by Ministry of Jal Shakti to fulfill its vision of  'one water data-one platform'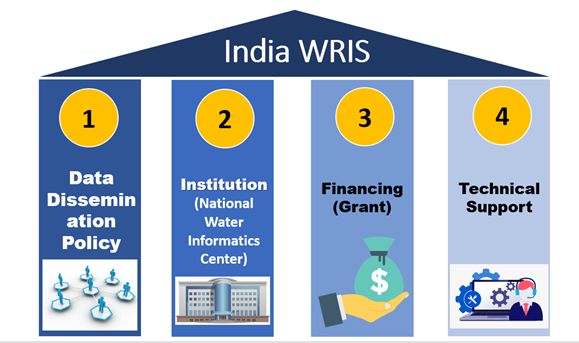 Think of your existing power as the exponent in an equation that determines the value of information. The more power you have, the more additional power you derive from the new data.
Bruce Schneier
Using state-of-the-art technology
New technology is contributing immensely to make the water data transparent and reliable.  
Real-time hydro-meteorological data is captured by automatic weather stations, and water levels and flows in rivers, canals and dams is captured by high-tech digital water recorders, both radar and ultrasonic, without touching the water. The entire process is carried out without any human intervention. In locations where

data needs to be collected manually, photographs of the instruments, giving the location and time stamp, are required to be uploaded through a mobile phone or a computer, thereby ensuring that the information is authentic and reliable.
Indian Space Research Organisation

has dedicated a special band on its INSAT 3D satellite to transmit the acquired data to an earth receiving station, from where it goes to a central server in an hourly chain of transmission. As a result, the data is available online to all agencies and can then be accessed from any place with an internet connection, irrespective of location.
Breakthrough cloud computing facilities and remote sensing applications have helped break the old silos of information and are further contributing to transparency.  Today, anyone can see the filling pattern of a water body (tank or reservoir) through freely available satellite imagery at an interval of five days.
Further, the National Remote Sensing Center (NRSC) and Survey of India (SoI) are helping render the topographical images into high resolution. This will make the information more comprehensible and easy to follow for lay people, and help communities understand when flooding may occur, or when to prepare for a drought.
Impact
The central platform has already proved to be a game-changer in breaking both administrative boundaries as well as the silos in the minds of data generators.  Several agencies have begun using the platform to exchange and/or acquire data by downloading it or through web-based applications. Some agencies have begun using satellite data to predict snowmelt across borders to better manage floods and initiate smart reservoir operations.
World Bank Support
The World Bank's first started its 25 year-long partnership with the Government of India in the hydrology sector through Hydrology Projects I (1995-2003) and II (2006-2014) which supported the standardization of water monitoring systems and data formats in 13 states of the country.  The ongoing National Hydrology Project (NHP; 2017-2025), with World Bank support of $350 million (Rs. 2,200 crores), marks the third phase of the Bank's support to India's water resources sector. The NHP is helping all water agencies across India, including those agencies which were not part of the earlier projects, to incorporate the vast changes that have taken place in the technology landscape. For instance, the north-eastern states that did not have a monitoring system are on the verge of commissioning a real-time data acquisition system for their rivers and wells to enable them to pursue evidence-based planning and development.
Going forward
While the project has modernised monitoring systems and integrated all water data into a central platform, it is constantly trying to improve the platform's functionality and accessibility. It is also exploring mechanisms for water accounting and for transforming data into information to manage climate extremes. In some states, the project is working on community- based monitoring and hopes to further tap the potential of crowdsourcing.
Figure 2.  Breaking data silos through satellite technology and cloud computing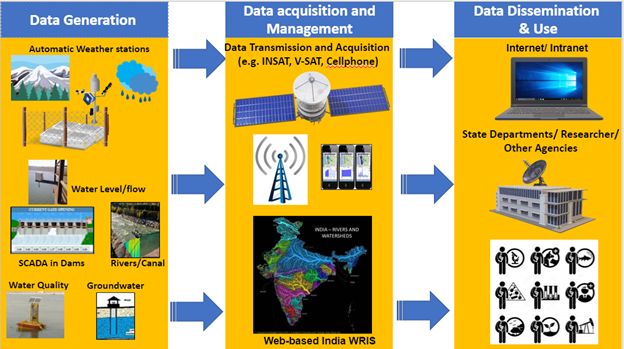 Posted by