Jharkhand is a state dominated by tribal communities located in eastern part of India. Agriculture, NTFP (Non-timber forest produce) collection and daily wage laborers are the prime source of income for rural Jharkhand. The sudden spread of Covid-19 forced both state and union governments to impose a 2 month lockdown and tribal communities could not work and sell their agricultural produce as well as NTFPs during the lockdown period. The lockdown thus snatched away the rice bowl of the tribals and left them unprepared to deal with the situation.
Watershed Organisation Trust (WOTR) is working in Murhu Block of Khunti district in Jharkhand since 2010 in 72 villages that fall under 7 Gram Panchayats of Murhu block along with other organisations in the area.These Gram Panchayats are Rumutkel, Indipidi, Binda, Kodakel, Ganaloya, Godatoli and Kuda. The villagers in this area are daily wage earners and have been experiencing the negative effects of the lockdown that have not only affected their work, but left them in abject poverty and hunger. Even the government sponsored MGNREGA work has not been able to attract more people due to its lengthy processes and late payment. WOTR's team in Jharkhand has been proactively involved in providing humanitarian support to the village communities, while ensuring continuity of project work as well as communication with the beneficiaries.
WOTR, to the rescue
WOTR has been actively supporting people in the area in times of Covid-19 by:
Generating awareness and ensuring preparedness at community level
There was rampant confusion when the state underwent lockdown leading to fear among the villagers. WOTR's team helped by raising awareness and taking protective measures during the initial and prolonged lockdown. Even though the movement of staff was restricted in the area, the field team reached out to the community over mobile phones and WhatsApp. Support was provided to the villagers in ensuring provision of healthcare facilities, additional support in developing market linkages for agricultural produce, humanitarian support to the migrants returning to the villages and identifying food insecure families who struggled for daily sustenance.
Support through Wasundhara Sevaks/Sevikas (WS)
WS played a crucial role in bringing everyone together. Thus, the Gram Panchayats (GP) were entrusted with responsibility during the lockdown to ensure that preventive measures were adopted, and WS actively supported GPs in identification of poor households as well as spreading awareness on preventive measures. WS not only ensured that villagers undertook all the necessary precautions like social distancing, usage of masks etc. or dispelling of fears and myths, but also supported the villagers in day to day activities related to  agriculture and livelihoods. The following are the initiatives successfully undertaken by WS:
WS extended their responsibilities by listing migrants from different districts and states. They also helped in listing poor households that required immediate rations.
WS helped farmers in marketing and supply of summer crop produce locally in villages as well as at the district level. Channels set up under the various programs helped the people to market perishable commodities directly to the vendor.
In the initial days, WS identified families who were left out and needed ration and assisted PDS dealers for smooth distribution of grains under National Food Security Act (NFSA) in different villages. They also listed the marginalised, destitute households having no PDS ration card under NFSA and immediately  linked the person to the chairperson of Gram panchayat for the entitlement of 10 kg rice and 2 kg pulses.
WS helped in distribution of masks in the villages under the project funded by IndusInd Bank Ltd. A total of 2622 masks were prepared by the locally identified women in Binda and Gullu villages, and distributed in 10 villages of Murhu district with the help of WS.
Distribution of ration kits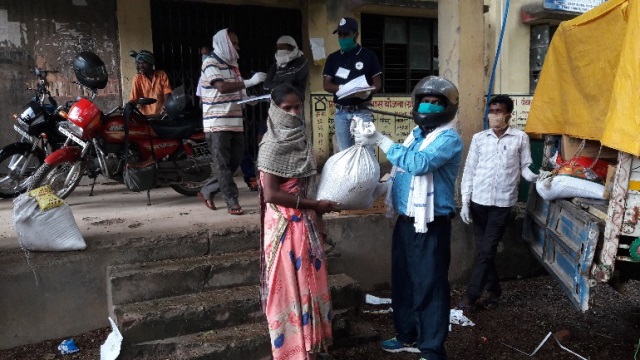 As per the listing done by WOTR's team in the project villages, along with the extended arms of WS, families were identified for immediate relief and support. With the help of project funded by IndusInd Bank Ltd. our SHG women in these villages are proactively working towards provision of ration to the most vulnerable segment of the village community. In one of our project villages i.e. Bamni, they have been proactively working towards provision of ration kits to the most vulnerable segment of the village community. Our Mahila Preraks have already distributed rice and dal to 50 families in Bamni village. For distribution of ration, block-level officers were present and appreciated the relief work done by the field team.
WOTR is also working for RCRC (Rapid Rural Community Response) to support the most vulnerable households in the area. Through RCRC funding, ration has been provided to 368 families in our project area. This was done in close collaboration with GP members, and infact in some of the villages the distribution was done through the GP mukhiya, panchayat workers from the block etc.
Mask making and distribution
Use of masks is extremely important to prevent spread of the pandemic. However, tribal families in the area are so poor that they cannot afford to buy masks. Even on social media, the dire situation of these tribal community members was depicted where they were seen using leaves from some trees as masks in order to protect themselves from infection.
With the help of funds provided by the IndusInd Bank Ltd. for rapid response and relief under Covid-19 situation, WOTR began by encouraging local manufacturing of masks and distributing them in the most vulnerable villages of the project area. It was planned to distribute 2500 masks as protection measures to protect villagers from infection or spread of Covid-19.
At the village level, 6 female tailors from project villages; i.e. Gullu and Binda, came forward to prepare home-made sanitised masks for their fellow village members as well as for nearby villages. WOTR's project team supported these women in purchasing clothes for stitching masks. For stitching of each mask, they  earned Rs. 7/- and generated a revenue of Rs. 17500/- within 10 days.
As on 7th May, 2020, mask making was completed in all the villages and distributed in 4 villages, i.e. Binda, Jamda, Gullu and Rodo. Local leaders were also present during distribution of masks to villagers. Panchayat Samiti Pramukh of Murhu, Mrs. Elis Ordya, distributed masks in Gullu and Jamda village. Every one appreciated the quality of masks and the efforts undertaken by our WS.
In present situation, a lot of problems are faced by daily wage labor and small enterprises as most of the economic activity at village level have been put on halt and people are unable to work to sustain the financially. In this situation the mask preparation and distribution has not only helped the overall community in taking protective measure and but also helped some of the people getting engaged in some work while generating extra household income. This has come out as an opportunity to work and support themselves financially. People are very happy that under current stressful situation they received humanitarian support from the funder IndusInd Bank Ltd.
Market Linkages
Farmer producer models (FPC) have been successfully functioning in the project villages. During this post-harvest season Birsa FPO had 29 quintals of paddy to be sold out to vendor, but due to sudden lock down stock could not be supplied to the vendors. WOTR procured the stocked up paddy from FPC aggregation unit in Bamni village for rice supply in the ration kit. Under this activity, 5-6 village laborers have been already engaged with FPO generating 10-12 employment days. Till now, FPC has received around Rs.63000/ for the paddy.
It is pertinent to note that there is a processing required to dehusk the rice as people in the region prefer to consume boiled rice. Birsa FPC took the charge and through its channel of amazing workers, board of directors and some shareholders, took the responsibility of rice processing. Women were involved in the process of boiling, drying and with the use of small rice mill in toner the paddy was processed. This initiative not only provided ration to the people, but also provided employment to the daily wage laborers.
Farmers are expected to face disruption in supply of necessary fertilisers, pesticides and seeds for the upcoming kharif season. Hence, FPC is planning to provide supply of seeds, fertilisers, pesticides as well as equipment required for agricultural purposes.
Kitchen garden kit
Addressing only immediate needs will not suffice in this pandemic . Food security is also important. In conditions like these, families often go for excess carbohydrate consumption like rice in order to fill up their stomachs. This usually cuts their nutritional supply and can lead to malnutrition. WOTR plans to address nutritional security of families by promoting kitchen garden kits for next 6 months, so that they do not fall short of basic necessities and in the trap of purchasing from the markets, inspite of having limited purchasing power. This will be undertaken with 100 percent  households of the project area being funded by IndusInd Bank Ltd. Currently the rolling out of this intervention with the SHG is being doneby the front-line workers.
Livelihood
The worst affected due to the lockdown have been the daily wage labourers and workers who have lost their source of livelihoods and their food reserves. If they do not find any engagement, they may have to face abject poverty. Like all other states, Jharkhand too has also decided to start the MGNREGA which can provide wage labor to workers amidst the crisis. It will be important to register the non-job card holders who want to have employment for job cards so that they can engage in MGNREGA work. WOTR is also facilitating the panchayat level MGNREGA work plan.
Enterprise development
Gram Vikas Samiti has also been working continuously towards income generating activities for the villagers. With their support and help, the project team will work towards small enterprise development, especially for SHG women. These activities will include goat farming, poultry, fishery and pig farming as alternative income generating sources for the villagers.

Planning for the future during Covid-19
Food security: The government has made provisions for ration to non-ration card holders. There are some families who have been found to be ineligible for the ration card due to government norms. The ration card has been issued with the listing done in the year 2011, but there have been changes in these over the last 10 years due to change in the family system, disintegration of joint families or migration of one family to different state for better income opportunities. These are the families left to be included in the system or have been unable to apply through online system. On an average, this percentage is about 10-12 percent in all the villages. Also, though the government has made provisioning of 10 kg rice per non ration card holder families, this 10 kg is insufficient for an average family of 5 members. An adult person requires 9 kg of rice for one month. WOTR plans to reach out to these 10 percent families and ensure that none go hungry by making provision for enough ration.
Nutrition: With food also comes nutrition and many families in rural India face the problem of malnutrition. When people face shortages, they immediately shift to enhanced consumption of carbohydrates to fill their stomach. If not realised, this situation will push them towards malnutrition. It is important therefore to provide support through kitchen garden interventions to meet the daily family nutrition for atleast a period of 6-8 months. This will also create a sense of independence amongst the women of the household who have to struggle to provide food on the plate.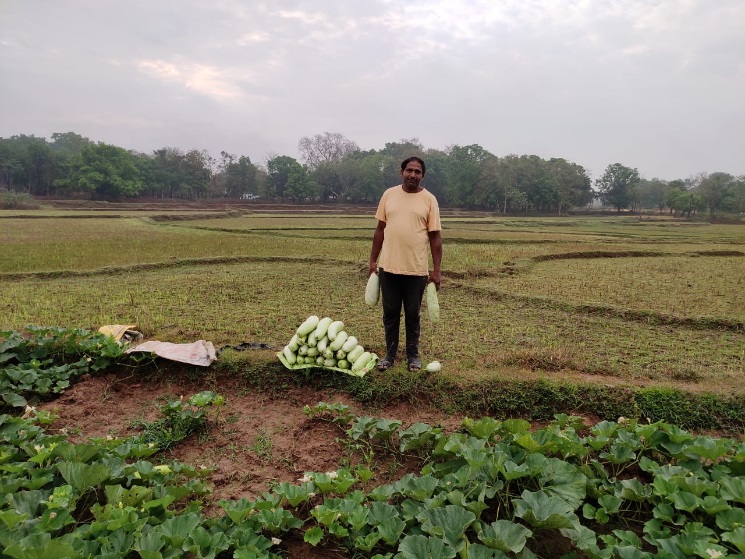 Livelihoods: During the lockdown, the worse scenario of poverty is faced by the daily wage labourers and workers who have lost their source of livelihoods and their reserves are on verge of full consumption. If they do not find any engagement, they may have to face abject poverty. Like all other states, Jharkhand has also decided to start the MGNREGA work with certain limitations, but the payment disbursal under the flagship program is not good. This is however also the only program which can provide wage labor to workers amidst crisis. It will be important to register the non-job card holders who want to have employment for job card so that they can engage in MGNREGA work.
Sensitisation: There is a lot of misconception about the virus among people and lack awareness on spread and transmission of virus. In these conditions, it is essential to make the community aware regarding this infectious disease. Behavioral change is essential but it will be a slow and on-going process. This is a forced behavioral change and should be done with least possible threat to the rural tribal communities. At present, our WS are the ones who can deal with the community and we need to sustain our support to these volunteers.
WOTR's project team have successfully retained them or else the communication with the villagers will be hampered. We call them "Corona Champions" who are dealing with this adverse situation at the village level. Apart from this, they are also looked upon for support and guidance because of their years of association with the villagers.
Agriculture scenario: The farmers in rural area have almost exhausted their stocks and food reserves. In absence of money, it would be difficult for them to buy seeds, fertilisers etc. WOTR is  developing a preparedness plan to tackle the unforeseen problems in near future. Certain investments in this regard are essential to prevent further suffering of farmers.
Sujaya Dangwar is a development practitioner heading WOTR's portfolio in Jharkhand. Shyna Dudeja is a researcher and working as a senior officer in WOTR's New Delhi office.
Please download the document below that includes more images and tables:
Posted by
Attachment

wotr_jharkhand_in_times_of_covid_19.pdf