National Water Mission's (NWM) has launched a campaign 'Catch the rain' on a pan India basis to nudge the states and stakeholders to create appropriate rainwater harvesting structures (RWHS) suitable to the climatic conditions and sub-soil strata before the onset of monsoon.
The campaign launched in February 2020 with the tagline 'Catch the rain, where it falls, when it falls' aims to promote the construction of check dams, water harvesting pits, rooftop RWHS etc. Efforts are on to remove encroachments and desilt tanks to increase their storage capacity; remove obstructions in the channels which bring water to them from the catchment areas etc.; repair step-wells and use defunct borewells and unused wells to recharge water back to aquifers.
The campaign aims to complete the activities well in time through the active participation of people. To facilitate the activities, states have been requested to open 'Raincenters' in each district - in Collectorates/Municipalities or Gram Panchayats offices.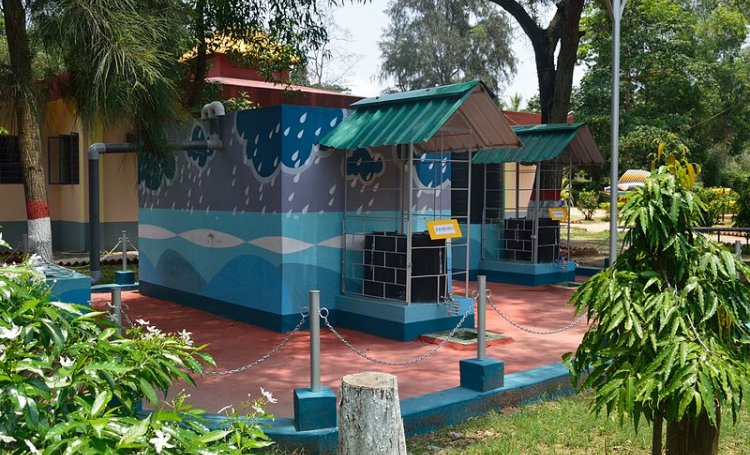 During this period, these 'Raincenters' will have a dedicated mobile phone number and will be manned by an engineer or a person well trained in RWHS. The center acts as a technical guidance center to all in the district as to how to catch the rain, as it falls, where it falls.
Efforts are being made to ensure that all buildings in the district have rooftop RWHS and most of the rainwater falling in any compound is impounded in it. The basic aim is to allow only limited amount of water to flow out of the compound. This will help in improving soil moisture and in raising the groundwater table. In urban areas, it will reduce water gushing onto roads, damaging them and will prevent urban flooding.
Under the 'Catch the rain' initiative, all water bodies in the districts are to be enumerated (checked with revenue records) and encroachments are to be removed.
All District Collectors, heads of institutions like Indian Institute Management, Indian Institute of Technology, Central Universities, Private Universities, Railways, Airport Authority, PSUs, Central Armed Police Force etc., having large tracts of lands with them have been requested to take steps to 'Catch the rain'.
In order to sensitize various stakeholders such as industries/corporates for active participation in this campaign to initiate water conservation activities, the National Water Mission has collaborated with the Federation of Indian Chambers of Commerce and Industry (FICCI) to take forward the campaign. FICCI has a well-established water division which is actively working in the water sector since long and its water mission of promoting water stewardship is aligned with the National Water Mission.
FICCI also aims to bring different corporate experiences around water harvesting and water conservation measures in order to share good practices that corporates have embarked on and for others to carry messages in terms of how they could implement similar initiatives.
Jal Pay Charcha
Four webinars were held by the National Water Mission in collaboration with the FICCI in July 2020. The series of webinars was initiated with introduction to the 'Catch the rain' campaign in the first webinar which dealt with 'infrastructure preparedness and awareness generation'. Thereafter, in the second and third webinar, subjects like 'groundwater recharge and aquifer management' and '3Rs of water conservation – reduce, reuse and recycle' were taken up. The fourth webinar was held on 'increasing water use efficiency in agriculture sector' with the theme 'sahi fasal'. 
The speakers and panelists in the webinars included Ms. Naina Lal Kidwai, Chairman, FICCI Water Mission; Ms. Sangeeta Thakral, Head CSR & Sustainability, Diageo India; Shri S Vishwanath, Advisor, Biome Environmental Trust; Prof. A.K. Gosain, IIT Delhi and various champions of water intensive industries.
Water security
Groundwater extraction in India far exceeds that in countries such as China and USA, and therefore, replenishing the groundwater is crucial. As irrigation is the highest consumer of groundwater, there is a need to focus on 'sahi fasal' to nudge the states to use appropriate crops based on agro-climatic conditions. A 10 percent water use reduction in agriculture could result in significant saving of water and therefore, water use efficiency is critical to water conservation.
There is a need of working closely with local governance institutions for successful implementation of mass water replenishment as well as a conservation project which includes restoration of ponds, construction of check dams, borewells, door to door connection, and installation of water ATM etc.
The issuing of byelaws for water harvesting at city, state and at water utility level and the access to rainfall data at watershed, sub-watersheds and sub-aquifers level plays a critical role in implementing water harvesting initiatives. For example, in the state of Karnataka, byelaws for rainwater harvesting have been made at the three governance levels - state authority, water utility, and city corporation and are well synchronized.
There is also a need to redefine stormwater drain systems to infiltrate rainwater into the ground. Recharge wells need to be created in the stormwater drains and all the water from the pavement can flow into the drain and get filtered, and percolate into the ground. It also provides livelihood and employment opportunities to the various communities who have been digging wells over centuries.
Some leading corporates (such as Diageo) have water stewardship programmes as part of their corporate social responsibility work. They are working on various interventions such as water for productive use, improving irrigation practices, creating water recharge structures across different states, integrated water management programme, and replenishment projects (like RWH, pond desiltation, water storage ponds).
As a part of this, they are engaging with NGOs, Gram Panchayats, village watershed committees, and are handing over the structures created to the Gram Panchayats to ensure sustainability of the water stewardship programmes.
The key learning outcomes of series of webinar are:
Redefine stormwater drain systems to infiltrate rainwater of urban areas into the ground for groundwater recharge.
Institutionalise the usage of drought tolerant crops, which consume less water in water stressed areas.
Promote village level governance for water conservation activities with active people's participation.
Provide subsidized microirrigation systems to poor and marginal farmers after improving their awareness about its significance in order to improve water use efficiency for onfarm land irrigation. 
Well synchronized byelaws for rainwater harvesting could be made compulsory at all three governance levels - state authority, water utility, and city corporation.
Regular monitoring of change in groundwater level using piezometers following development of water conservation works on field.
Create more ambassadors and village champions who can be evangelists to amplify the 'Catch the rain' campaign.
Water webinar series - Catch the rain campaign - Effective way of rainwater harvesting
Water webinar series - Catch the rain campaign - Groundwater recharge and aquifer management
Posted by
Attachment