Safe drinking water, sanitation, and hygiene (WASH) are the essential components to lead a healthy life. Correct, consistent, and continuous practices of WASH behavior, particularly hand hygiene can help prevent infections and spread of diseases.
With the lack of appropriate sensitisation, awareness and access to an improved water source, and poor availability of soap and handwashing stations, vulnerable rural communities are facing health-related social challenges that adversely impact the household economy.
WASH sensitisation and awareness building is a key to bring about a change. According to the WHO/UNICEF Joint Monitoring Programme (JMP) 2020 data, many people do wash their hands with water or with water and soil/ash, but not on a regular basis. This leads to waterborne diseases such as diarrhoea and typhoid.
Even if some are using soap for handwashing, the absence of proper handwashing stations increases the risk of spread of infections as the same water source is often used by different people for different purposes. Lack of resources and knowledge also act as barriers for the poor in not having a dedicated handwashing station.
Understanding this situation, S M Sehgal Foundation designed a handwashing station which is simple, low cost, user friendly, easy to fabricate with locally available resources, has zero environmental footprint rather reuse the plastic waste.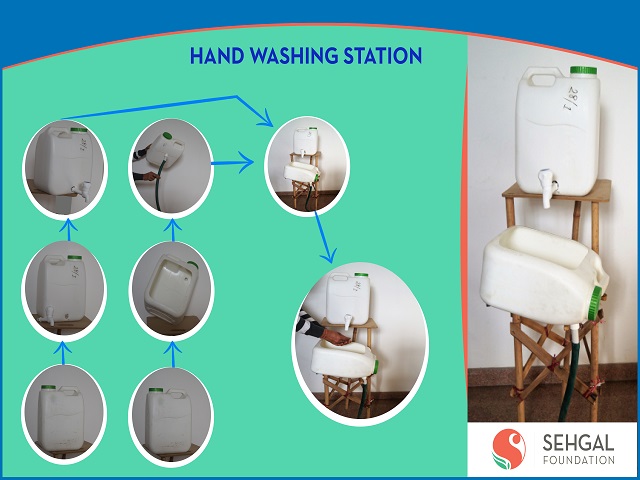 The designed model offers ease and convenience of hand washing in affordable DIY format thus has a huge potential to bring about behavior change in handwashing at appropriate times and help stop the spread of diseases. It also adds to the dignity of the user household. The low-cost handwashing station is shown below: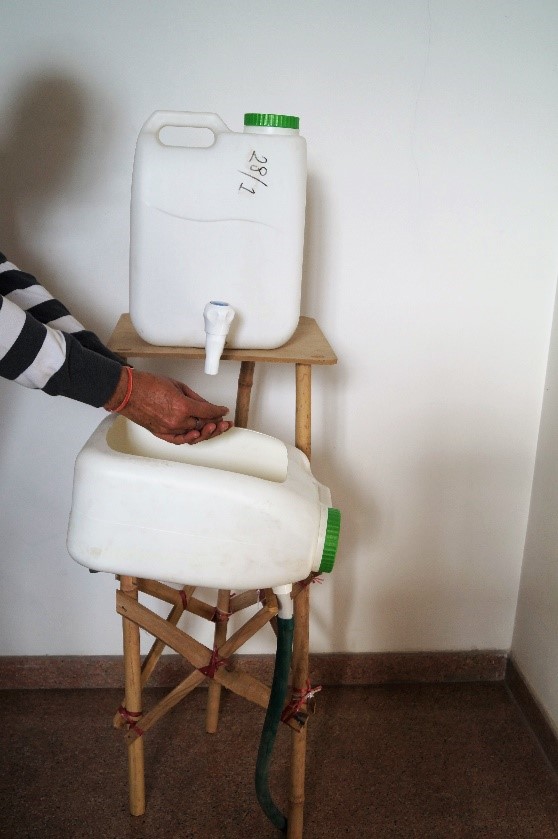 The primary objective behind prototype development is to build a low-cost environment-friendly handwashing station that reduces the risk of spread of waterborne diseases among the rural population, who shares the water source, also particularly among highly vulnerable young children and promotes dignity and productivity by sustaining handwashing behavior at critical times.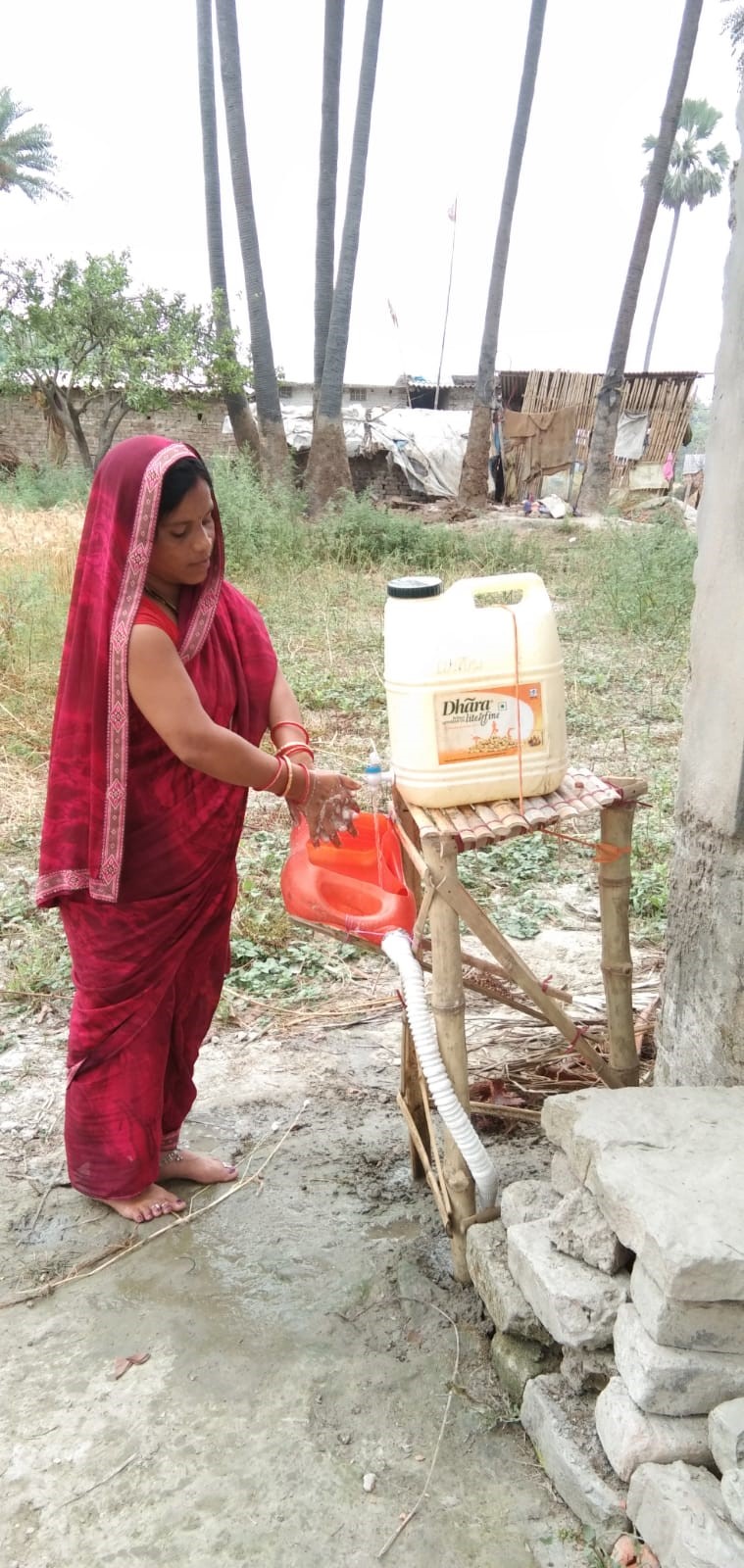 The major problem as defined in handwashing is that the handwashing stations which are available in the market or in practice are cost intensive and not affordable for vulnerable rural communities. Our innovation of handwashing station with soap is not only easy to build and cost effective but also provides an opportunity of recycling the plastic scrap with zero environmental footprint.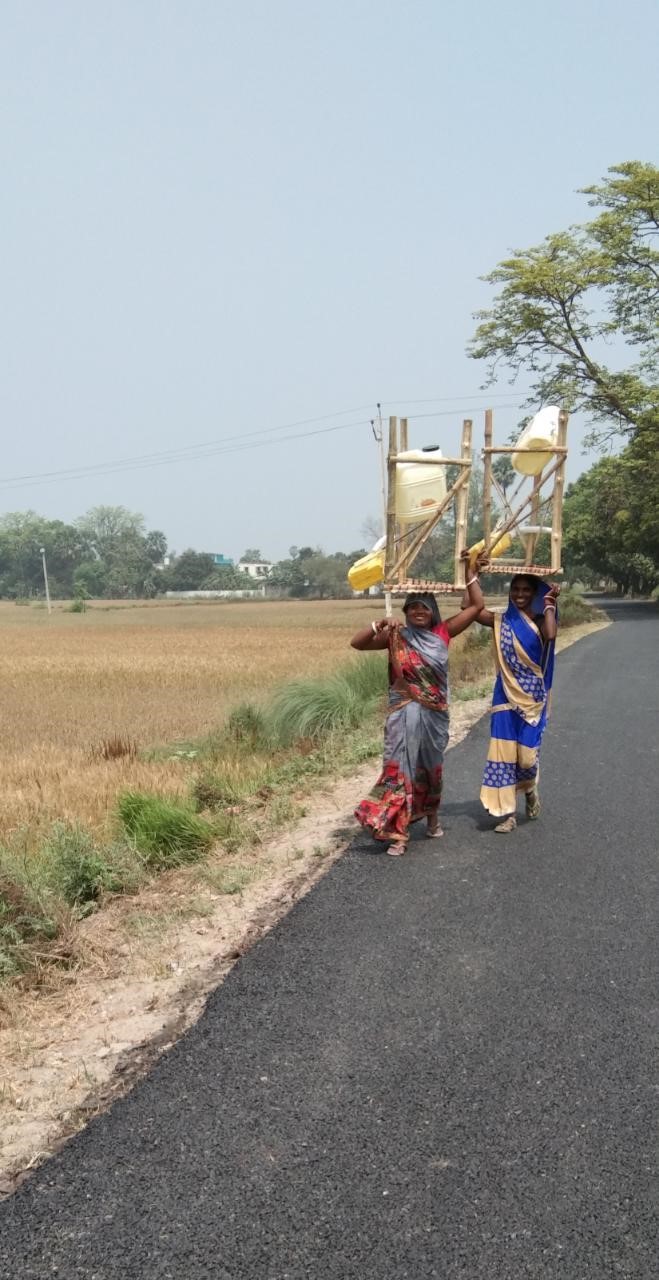 The model costs maximum of INR 260. The fabrication needs low level of skills and resources locally available. Four key components along with their costs are:
This article is a part of a series of articles on drinking water quality in collaboration with S. M. Sehgal Foundation, India and CAWST, Canada.
S M Sehgal Foundation addresses the most critical needs for water security, food security and community partnership and operates across ten states, in over 1,000 villages so far, reaching more than 2.5 million people. Through the water management program, the foundation encourages communities to harvest and store rainwater for direct use and/or replenish groundwater and surface water by building and restoring infrastructure in villages. Promoting safe drinking water through low cost household water treatment and storage in an important initiative towards SDG 6.
Centre for Affordable Water and Sanitation Technology (CAWST) is a Canadian charity and licensed engineering firm. CAWST addresses the global need for safe drinking water and sanitation by building local knowledge and skills on household solutions people can implement themselves.
To learn more, please contact: smsf@smsfoundation.org OR lalit.sharma@smsfoundation.org
Posted by