Sadhani Kalita is only 35 years old but looks like she could be 50 years or older. She has lost her teeth and both her legs are misshapen with the ankles twisted. A resident of Tapatjuri village in Assam's Hojai district, Sadhani is one of the many people in the region who are living with dental and/or skeletal fluorosis--a deformity of teeth and bones from consuming water contaminated with fluoride. 
"If you visit these villages, you will feel like all the differently-abled people across India have come and settled here," said Dharani Saikia, the secretary of a local NGO, Environment Conservation Centre, which works towards tackling fluorosis in Nagaon and Hojai districts.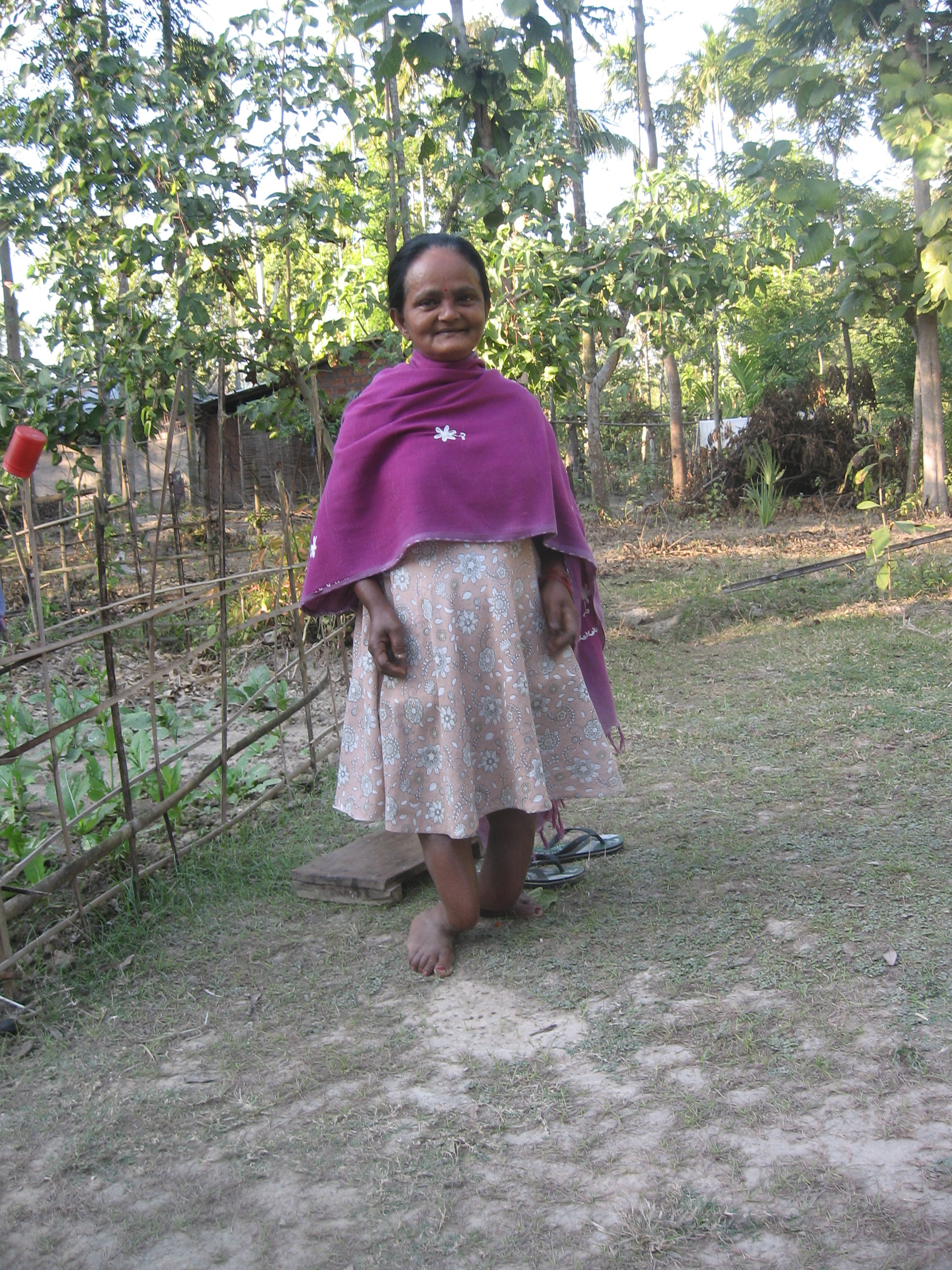 He says such is the severity of the ailment in the region that skeletal fluorosis has rendered children crippled. These children are unable to move without the support of a stick. He said more than 50,000 children in 285 villages in these districts are suffering from either dental fluorosis or skeletal fluorosis or both.
Excessive intake of fluoride over a long period causes fluorosis. Dental fluorosis corrodes, discolours and disfigures the teeth. Skeletal fluorosis is the condition where excess fluoride gets deposited in the bones and/or the spinal cord, leading to deformity and constant pain in severe cases. Legs, spinal cord and major joints such as neck, shoulders, knees and hip are most susceptible to accumulation of fluoride and the resultant deformity.
Severity of the problem
As per a government report tabled in the Assam Assembly in May 2017, groundwater in 23 out of 32 districts in Assam has high fluoride content. Consuming this water is leaving people with severe deformities. Numbers available with the National Programme for Prevention and Control of Fluorosis (NPPCF) say 3.8 lakh people are affected in the 930 habitations in the 11 districts alone. 
According to the Bureau of Indian Standards, water is unfit for drinking if the concentration of fluoride in it is more than 1 mg per litre. In Karbi Anglong district, the concentration of fluoride stands at 23.4 mg/l. In Nagaon, it is 15 mg/l. Groundwater in Kamrup Metropolitan district, where the capital Guwahati is, has 10.3 mg of fluoride per litre. 
How authorities respond
Assam's geography and its people's dependence on groundwater are responsible for fluorosis. Saikia says the hilly districts of Assam have sedimentary rocks that have high fluoride content. Consuming water obtained from borewells in these regions puts people at the risk of fluorosis. The deeper the water is fetched from, as in the case of borewells, the higher the concentration of fluoride in it.
The best defence against fluorosis is not using the contaminated water. The Public Health Engineering Department (PHED) of Assam has taken certain steps to control the damage. The department's additional chief engineer Harmuz A. Ahmed says that they are focusing on 20 districts. The PHED has taken up the task of providing piped water to Nagaon, Karbi Anglong and Kamrup districts and has also dug 95 wells. (These ring wells are dug only till a certain depth and have a much lower concentration of minerals. Deeper the wells, the more fluoride content in water.) "The piped water is sourced from Kapili and Jamuna rivers and is filtered before being supplied to villagers. However, they are not RO treated," Ahmed said. 
Further, the department has upgraded labs in four districts to test the water quality. In Tapatjuri village, a fluoride mitigation support centre was set up in December 2015. It has a primary healthcare centre that exclusively caters to people living with fluorosis. Also, the forest department has started planting saplings of calcium-rich fruits in the affected places because their consumption can help prevent dental fluorosis.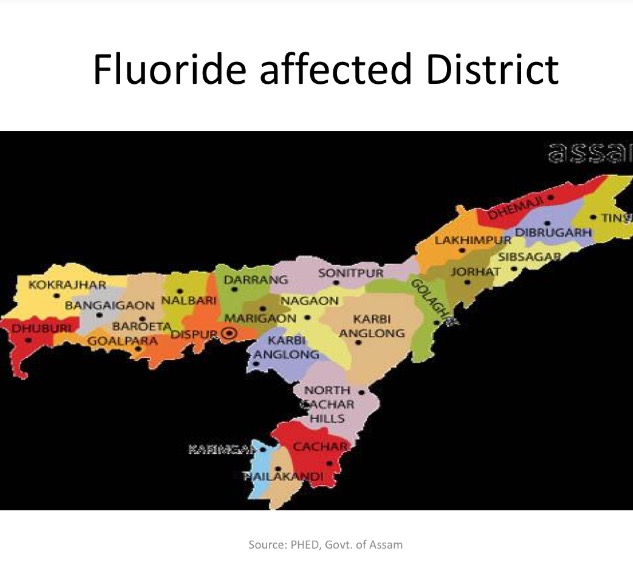 Dr Arundhati Deka, nodal officer of the NPPCF and the deputy director, directorate of health, Assam, says they have taken up awareness campaigns in Nagaon, Karbi Anglong and Kamrup districts. Under it, doctors and paramedics are being educated about consuming micro-nutrients which can mitigate the impact of fluorosis. She says they are considering extending the programme to another four districts.
The district administration of Nagaon has prepared a roadmap to eliminate fluorosis by 2018. 
But efforts are just not enough
Apparently, only two districts in the state (Karbi Anglong and Nagaon) had people affected with fluorosis in 1998-99. Now, the number of affected districts stands at 20.
After fluorosis was first detected in Assam, the PHED had made a joint action plan with the Unicef in 2002. Unicef had given the government Rs 87 lakh to tackle the issue. However, Saikia says the government's mishandling of this fund only aggravated the problem. He says the PHED dug 24 wells with this money in Nagaon district, drilling beyond the scientific limit and worsening the impact of fluorosis.
When A.B. Paul, the former additional chief engineer of the PHED, first saw the symptoms of dental fluorosis in a villager in Karbi Anglong in 1999, he got the groundwater tested and the result confirmed there was excess fluoride in the water. He says the government of India and the PHED were, however, unwilling to accept his findings, citing that Assam was not on India's fluoride map. 
Paul, who retired this January, says he had to persevere for a year and a half to impress upon the administration that Assam's groundwater was contaminated with fluoride and needed attention. "My promotion was also denied as the educated people would say that I was a liar," he says.
The state continues to have a lackadaisical attitude towards the problem even now and a lot remains to be done.
Saikia, who has written a book--Fluoride Akranta Anchal Etar Karun Gatha: Tapatjurir Chaku--on Assam's tryst with fluorosis, says the PHED is yet to undertake a survey to ascertain how many people exactly are suffering from this problem. He says research has not been done in the state on preventing and controlling fluorosis and added that many vegetables and fruits that are rich in certain vitamins can fight water-related diseases. According to a data journalism portal Factly.in, barely one-fourth of the funds released to the NPPCF in the last five years has been utilised in the country. 
(Syeda Ambia Zahan is a Guwahati based freelance writer and a member of 101Reporters.com, a pan-India network of grassroots reporters.) 
Posted by
Attachment